Feria del Cáñamo, S. L. y su marca, Spannabis, quieren desmentir la información difundida en los siguientes links:
Primer link: https://hightimes.com/news/­high-times-bringing-cannabis-cup-spain/
Segundo link: https://spannabis.cannabiscup.com/
En el primer link, publicado el martes 11 de febrero, se pueden leer expresiones como:
"In March, the Cup will take place against the backdrop of Spannabis 2020, one of the largest international cannabis festivals in the world."
"En marzo, la Copa tendrá lugar en el contexto de Spannabis 2020, uno de los festivales internacionales de cannabis más grandes del mundo."
"Winners of the Cup will be announced by the High Times team on the main stage during the Spannabis 2020 festival."
"Los ganadores de la Copa serán anunciados por el equipo de High Times en el escenario principal durante el festival Spannabis 2020."
"Cannabis Cup Spain a Focal Point of Spannabis 2020."
"Cannabis Cup Spain, un punto focal de Spannabis 2020."
"[…] Spannabis celebrates global cannabis culture. For the first time ever, High Times will bring its Cannabis Cup competition to Spain's famous international expo."
"[…] Spannabis celebra la cultura mundial del cannabis. Por primera vez, High Times llevará su competición de la Cannabis Cup a la famosa exposición internacional de España."
El segundo link es una página web dedicada a un evento llamado "Spannabis Cup":
Además de llevarse a cabo un uso ilegal de nuestra marca, se afirma de nuevo que los ganadores de esta competición serán anunciados en el escenario principal de Spannabis.
Esta página web tiene un apartado de preguntas frecuentes: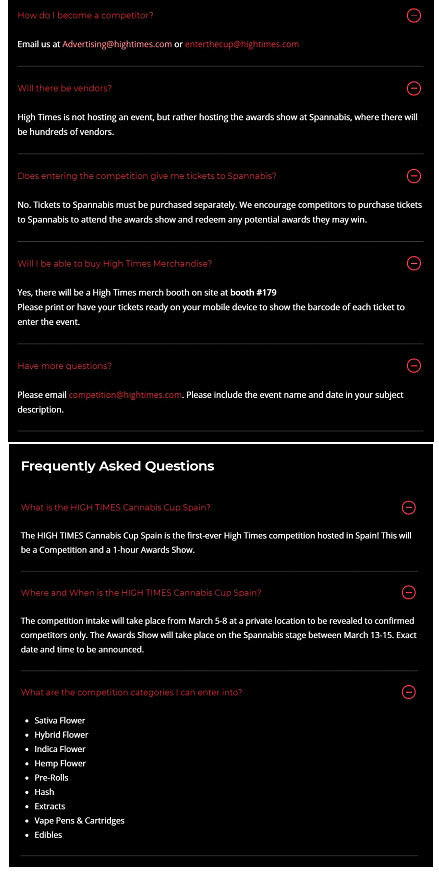 En este apartado se hacen las siguientes declaraciones:

What is the HIGH TIMES Cannabis Cup Spain?
The HIGH TIMES Cannabis Cup Spain is the first-ever High Times competition hosted in Spain! This will be a Competition and a 1-hour Awards Show.
¿Qué es la HIGH TIMES Cannabis Cup España?
¡La HIGH TIMES Cannabis Cup España es la primera competición de High Times organizada en España! Será una competición y una entrega de premios de 1 hora.
Where and When is the HIGH TIMES Cannabis Cup Spain?
The competition intake will take place from March 5-8 at a private location to be revealed to confirmed competitors only. The Awards Show will take place on the Spannabis stage between March 13-15. Exact date and time to be announced.
¿Dónde y cuándo es la HIGH TIMES Cannabis Cup España?
La competición tendrá lugar del 5 al 8 de marzo en un lugar privado que se revelará solo a los competidores confirmados. La entrega de premios tendrá lugar en el escenario de Spannabis entre el 13 y el 15 de marzo. La fecha y hora exactas se anunciarán próximamente.
Will there be vendors?
High Times is not hosting an event, but rather hosting the awards show at Spannabis, where there will be hundreds of vendors.
¿Habrá expositores?
High Times no está organizando un evento, sino que está organizando la entrega de premios en Spannabis, donde habrá cientos de expositores.
Desde Feria del Cáñamo S. L. queremos desmentir toda esta información. No existe ningún tipo de relación o colaboración entre Spannabis y High Times.
Además, como hemos transmitido a todos nuestros clientes y empresas del sector en un comunicado enviado el día 10 de febrero, cualquier uso de la imagen, el logotipo, la marca o el nombre de Spannabis para promover o patrocinar eventos no está permitido, conllevará la cancelación de los servicios prestados por Feria del Cáñamo, S. L. y podrá acarrear la toma de acciones legales.
FERIA DEL CÁÑAMO S. L.
Teléfono: +34 916 584 520